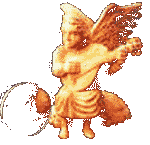 "Angel Making Music" by Charles Sivell
A Life of Music
---
This page is to honour the memory of my dear friend, and a musician's musician, Jocelyn McGillivray. The three songs presented here were recorded at an informal "Open Stage" at the SubPub, in Nelson BC Canada on June 20, 1992, less than a year before her untimely death.

Strangely Born - mp3 - - Lyrics - - My personal favourite. It still makes me weep after all these years.


Going to Nova - mp3 - - Lyrics - - and go to Nova she did, making it inside this time.


Up From the Lake - mp3 - - an upbeat little ditty about the foibles of relationships.

---
NEW: - Photo of Jocelyn - - Courtesy of Cheryl Hodge, Selkirk College Pro. Music Program.

---

Back to "Fred's Projects"

Back to Dogstar Music's main page

If you're interested in forming a Jocelyn McGillivray Fan Club webring, please e-mail me, Fred Nachbaur

This page last updated Sep. 11, 2002 (Photo added).