Again basing the circuitry on the original voltage amplifier in the radio, this stage amplifies the incoming signal, applied via the manual master volume control pot and coupling cap C9 to the control grid of triode V3. As before, a 1 meg plate load resistor and capacitor C11 couples the output to the PA stage.

However, the grid is DC biased to a positive (+3v) rail via a large grid-leak. At the same time, a negative voltage derived from the volume slope detector coil, rectified by the diode section of V3, is applied via a low-pass filter and summing network consisting of R8, R9 and C10. The volume oscillator is set up such that it is normally at or near resonance, resulting in a large negative voltage, and reducing the gain to minimum. As the slope-detector is detuned by moving your hand closer to the volume antenna, this negative voltage decreases, allowing stage gain to increase.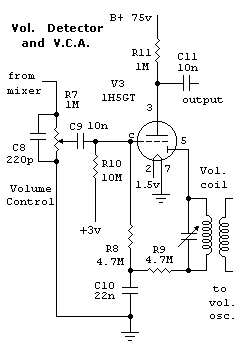 An alternate approach is to use a 1N34 germanium diode instead of the built-in vacuum diode, with the anode to ground, and R10 tied to C- (- 7.5v) instead of to +3v. Tune the slope detector such that resonance is achieved very near to the volume antenna. This may give better control, but at the expense of having the volume drop very suddenly if you get too close to, or in contact with the volume antenna.